OM SHANTI YOGA & HEALING CRETE
The Art of Life N.P.O.

---
Om Shanti is"the sound of the universe & peace " .
After coming to Crete more then 30 years ago, i found this energetic and silent place in the south in 2009. Since then we are sharing retreats ,yoga holidays and satsang etc here to go deeper into our self's & find Who we truly are. But also you can relax here,let the soul dangle and come back into harmony with your nature.The place radiates a harmonizing and healing energy that our soul desperately needs in this hectic time..
Our house is located in a mountain village Amiras on the south coast of Crete, the island of light.. The area has the quietness of the mountains and the vastness of the Libyan Sea in the front. We offer yoga & detox, yoga retreats , yoga-holidays , various massages, Reiki treatments or initiation in 1.2.3. Ushui Reiki degree,. And maybe some questions about yourself and life gets answered. Otherwise you can hike in one of the only pine forests in Crete or relax on one of the most beautiful beaches of Crete all about 20 min away. There are Minoan temples, gorges in the area.It is still like Crete many years ago with empty beaches and not touristic at all... Also there are some small villages for shopping etc and beautiful tavern's located along the seafront.Sunbeds and umbrellas are still provided for free in most places
Om Shanti Yoga & Healing Crete is located 60 km from Heraklion airport you can come by bus or we can transfer you to our center or arrange a car for rent.
---
Anja Abinaya & Kostas Siddharth

---
Originally born in South Germany, I came to Crete, the island of light, after completing my apprenticeship as a stage designer and studying in art and technic. I already had realized that life is much more than what the eyes can see, the the inner journey had begun and yoga & meditation came into my life as well as different energy healing methods.and massages..
I am a trained Hatha Yoga teacher (Iyengar & Shivananda yoga, Flow yoga & Yin yoga ) and a Reiki master. In 1993 I started my yoga education in Crete in Heraklion and in 2001 I did my yoga teacher training in the Bahamas. I also got my 1, 2 and Reiki master initiation in those years, now I teach here more than 15 years.In 2009, I opened the Yoga & Healing Center Om Shanti after being many times in India, and run it now with my life-partner Kostas Siddhart (who was born on Crete) and is cooking the delicious vegetarian food (Yogic, Ayurvedic and Cretan, all organic and from local traders) He is also responsible for our vegetable garden .....& since his passion is music and he was a DJ for many years, he also plays the beautiful spiritual music (ambient, chill out, mantras) during the seminars and leads through the dance meditation.
Yoga also puts me in my midst again and again and shows me what is essential in life, namely to meet things with serenity and joy. I try to pass this on, among other things, in my seminars and yoga classes..
We have spent many winters in India, me deepening my practice studying with Iyengar & Sivananda yoga teachers. Together we stayed for some time in various ashrams, learning & deepening pranayama and meditation techniques as well as a yoga that goes much further than the physical exercise. The last few years we have been to Mooji ji a lot and have often been for his satsangs in Rishikesh. We also became a member of the Mooji sangha group.
Now we are very happy to share our experience with you.
May love and light be with you,
Abinaya & Siddharth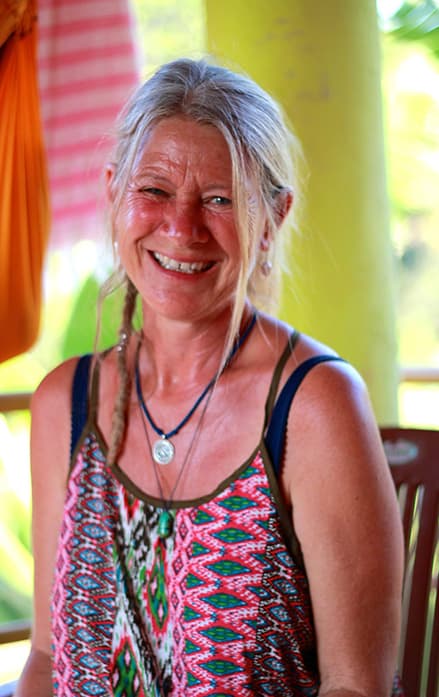 WHY YOGA?
Yoga is a light, which once lit, will never dim. The better your practice, the brighter the flame.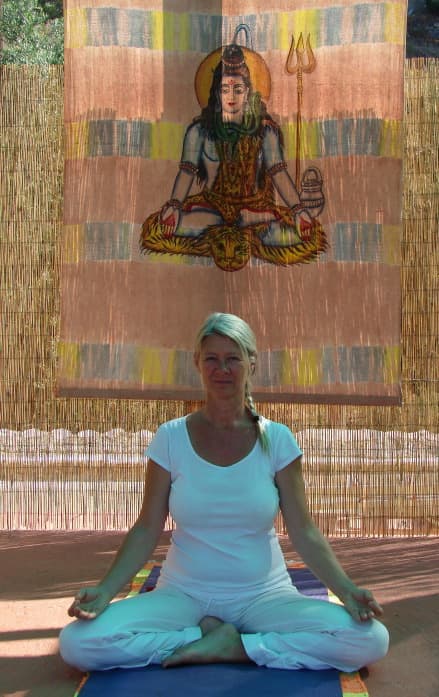 FOR WHOM?
we are open for everyone ...yoga has to do with your inner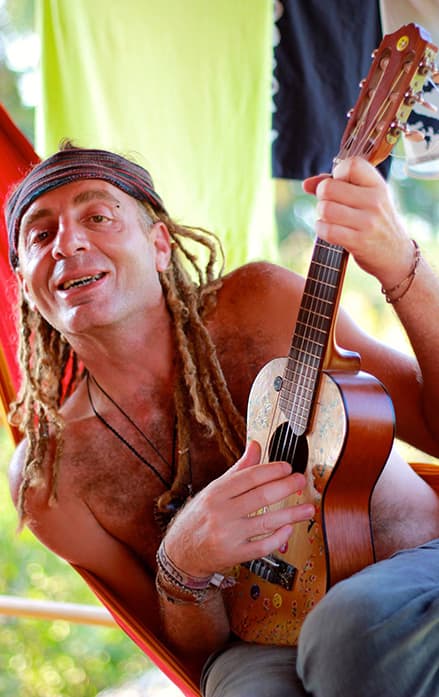 WHEN?
from April till November
---
More Teachers
As a human you have a destiny, Live it!
My name is Lalita Devi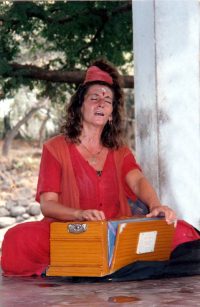 ---
When Lalita was doing her yoga teacher training in 1994 she was deeply touched by the singing of the Bajans and she followed after from the mountain Arunachala in South India the voice of Papaji (Enlightened Master) to Lucknow where he told her "Lalita you sing - Mind is quiet !"
With her total devotion when she sings , Inspires Lalita so many people, when you sing thousands of years old Mantras , you dive deep into yourself and feel total bliss and happiness.
Bajans are not to simply entertain you , but to awaken you to the truth of what you really are.
Through the power of the music and the word we break through our unconscious mind and find what we are , Sat Chit Ananda....Truth Consciousness Bliss.
With Lalitas ecstatic Bajans we feel Shivas presence deep in our heart , there where we know" Who we are".
SOHAM SOHAM - YOU AND I ARE ONE !.
OM Shanti
My name is Sandra Sorgatz
---
I am from South Germany. I am a fitness and health trainer as well as a yoga teacher. I came across Yoga through sports. My lessons and training have moved me more and more towards Yoga over the years, noticing that almost everything has its origin in Yoga. Today, I cannot imagine my life without Yoga.
I am aware, attentive and authentic - in the now! And so are my teachings. From time to time physically a little more demanding.
I have taught yoga since 2013, started with Hatha Yoga, then Vinyasa Flow and Yin Yoga.
Namaste,
Sandra
---
YOGA & HEALING
YOGA means UNION. HATHA YOGA is the union of the sun & the moon, male & female to become ONE.
---
"You think of yourself as a citizen of the universe. You think you belong to this world of dust and matter. Out of this dust you have created a personal image, and have forgotten about the essence of your true origin."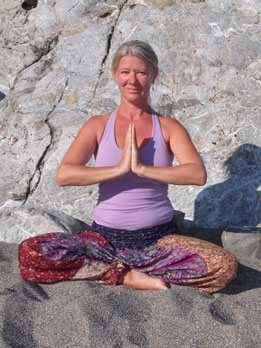 HATHA YOGA
"Yoga for me is a state of mind and a whole lifestyle, that's why I teach in a way that includes the heart, the mind, the soul, as well as the physical body."
Yoga unites our individual Self with the higher truth. Most people in the west, practice yoga for physical exercise to gain fitness and reduce stress but working with the body and getting physical health, the nervous system gets affected positively and automatically drives the mind in peace.
Shivananda works a lot with the spiritual side of yoga (meditation, pranayama, mantras, satsang) plus iyengar works with the right doing of the asanas, to be exactly in the posture so the blockages can be released and the energy flows freely. Together with meditation (neti-neti, itti-itti) and pranayama techniques (bairova) that we practice at the ashram, along with my own experience of so many years, we have created a lovely, effective and healing way of doing yoga.
The groups we hold in the center are small (6-10 people). There are also reiki saisons & seminars, satsangs, various kinds of massages as well as Cretan herbal medicine, that you can learn about them in a workshop.
HEART CHAKRA
HEART CHAKRA & KIRTAN in September
In this retreat we work on our heart chakra.with asanas , pranayama, meditation and mantras( Lalita Devi will sing them for us & play the harmonium) we open our heart chakra more and more, balance it and feel the deep energy of love coming from this center .you will find out who you really are , resting in your heart & spreading love & light into the world.In the evening of the september retreat will be Kirtan with Lalita most evenings . There will be a evening of dancing meditation at the end of the retreat with Siddhart playing life
---
CHAKRA DANCING YOGA
in this retreat, you will learn about the chakras & we work on our whole chakra system to bring it into harmony and feel the well being of our body, mind, and soul. we use asanas, mantras and meditation as well as music to flow from one chakra into the next also deep breathing exercises ( bairova ). one evening is a Chakra dance meditation with life music from Siddhart.
netti netti meditation: I am not this.
itti itti: I am peace, happiness and love.

bairova: Breathing technique to reduce thoughts, profound cleansing of stress and tension. Preparation for meditation.
Healing
Reiki Sessions:Reiki Initiation level I, II, III

Indian Head Massage,Back Massage Foot Reflexology, Shiatsu

---
---
RETREATSUpcoming & Latest
Seminars & Workshops
Yoga Retreats Crete 2018 the DETOX & YOGA SEMINARS they always are at the waning moon phase to help detoxify ​ October​ Unwind & Relax Yoga Holidays on Crete Join us on the island of

[…]
Join us on the island of Light to enjoy 1 week of yoga and well being! 07  –  14 October  2018 We practice yoga twice a day – energizing Hatha Yoga (active, dynamic) in the

[…]

Anahata Yoga & Kirtan Crete Here we work with asanas for the opening of the heart, pranayama and meditation (lotus meditation) Kirtan in the evening with Lalita, dance meditation, and much more …. http://www.lalita.de Every

[…]
Information

---
Each seminar is a group of 6-10 people.
All seminars are in English or German.
The beginning and end of the retreats are always on a Sunday but you are very welcome before or after the retreat.
The Yoga & Detox Seminars always start with the last quarter moon to help detoxifying.
At the airport there will be a car with the description to the center. The car will be shared with other people of the retreat. You can keep the car for the whole week, or we take you from the airport.
There is also the possibility to come with a bus or a taxi to the center.
included is accommodation in shared double room (7 nights), car, rich&healthy vegetarian breakfast, 5 veg. dinners & the Yoga program and complete Yoga equipment.
By booking a retreat we kindly ask you for a deposit of 30% and the rest you pay it on arrival. For the cancellation until 2 month before there is a refund of 50%.
Prices are per person. Not included are flights, transportation, insurance and all extras during the retreat.
We also have space for 2-3 tents for the retreats & a small house separate from us ( 3 min. walk) with 2 double rooms to rent extra
---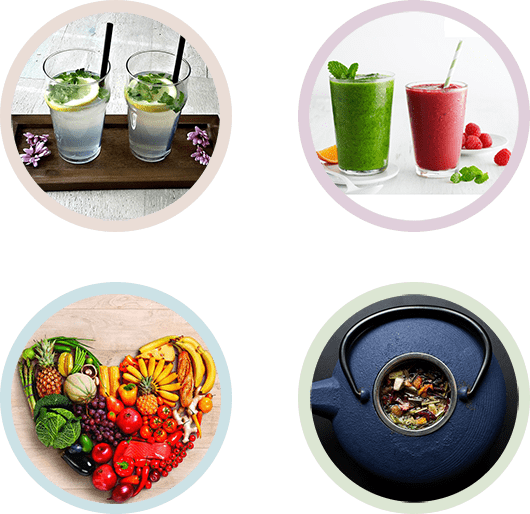 YOGA & DETOX 14.10.-21.10.2018
Why to Detoxify?

---
The connection between the body and the mind is a very real one, with the way your body feels playing a big part in how your brain functions and whether or not you experience a state of well-being. Keeping it free of toxins, free radicals, and other nasty things that can end up in our insides is essentially to maintaining a healthy life. Detoxing the body also through yoga brings additional benefits which cannot be achieved through diet only or by any other means of detoxing. Detoxing through yoga practice improves the function of internal organs and removes impurities from them. Detoxing through yoga practice leaves your body cleaner inside and more energetic outside.
---
---
A 7-DAY SEMINAR WITH SPECIAL DETOXIFICATION AND YOGA
In this 7-day seminar, five days will be a cleansing process with smoothies, soups, green smoothies, juices, herbal teas and water. On the first & last day we will have some light vegetarian meal, salad and smoothies to begin and end the detoxification.
---
THE PROGRAM IS THE FOLLOWING
> Warm water with lemon to give a kick to the lever
> Daily morning and evening yoga (1 ½ hour of asanas, pranayama, meditation)
> Yoga nidra
> Morning smoothie
> Group sharing and inspiration
> 1 oil massage (with special flowers and herbs essences to detoxify from the skin)
> Midday smoothie
> Free time to go to the beach or just relax in the center
> Evening yoga session
> Evening veg - soup
> mantras, kirtan, free time

* All plants and herbs are collected on Crete by a friend of us.
---
---
ROOMS & GALLERY

---
Our house is an old stone house with garden & view to the Libyan Sea from all the rooms. There is space in the garden for relaxation in many private places. We have restored all rooms to the original style of the house with natural stone, giving a refreshing feeling for the summer. We have 3 double rooms which will be shared during the retreats and can be booked for Yoga holidays, the Retreats, as well as just for summer holidays, all with mosquito nets & natural Coco-mat mattresses.. Apart from the retreats you can use also the Yoga Shala for private practice. Our bathrooms are one closed shower with an old olive tree inside & one outside shower under the fig tree.as well various toilets and sinks.There is a space for having breakfast & dinner and also a fridge you can use and prepare cold plates.
Donation for a double room with breakfast (bio & local products):
Low season (April, May, October, November) - 45€ per room per day
High season (June, July, August, September) - 50€ per day for 2 people
For single use of the room please ask for a price
By booking a room we kindly ask you for a deposit of 30% and the rest you pay it on arrival. For cancellation until 2 month before there is a refund of 50%.
Yoga holiday classes 08:00-10:00 in the morning:
Group Yoga session - 10€ per person (from 3+ people)
Yoga session for 2 people - 30€ in total
Cooking lessons with our Chef Kostas (Siddhart) every Monday after the daily seminars, or by appointment.
---
We would be delighted to welcome you soon!

SATSANG
The meaning of Satsang
WHO AM I

---
Satsang is a Sanskrit word that means "gathering together for the truth" or, more simply, "being with the truth." Truth is what is real, what exists. So all there is, is Truth. Whenever something increases your experience of the Truth, it opens your Heart and quiets your mind. Conversely, whenever something, such as a thought, fear, or judgment, limits or narrows your experience of the Truth, the Heart contracts and the mind gets busier. We are all equally endowed with this capacity to discriminate the Truth. Thus, the true teacher, or satguru, is within you, and satsang, or being with the Truth, is endless. You have always been here in the embrace of your true nature as aware, loving space. You have always been in satsang.
New dates of Satsang will be announced soon.
Ramana




Satsang




Atmaji




Vivek Satsang




Sagarika Ma Satsang




Vivek Satsang




Sagarika Ma Satsang




Atmaji




Vivek Satsang




Atmaji




Diana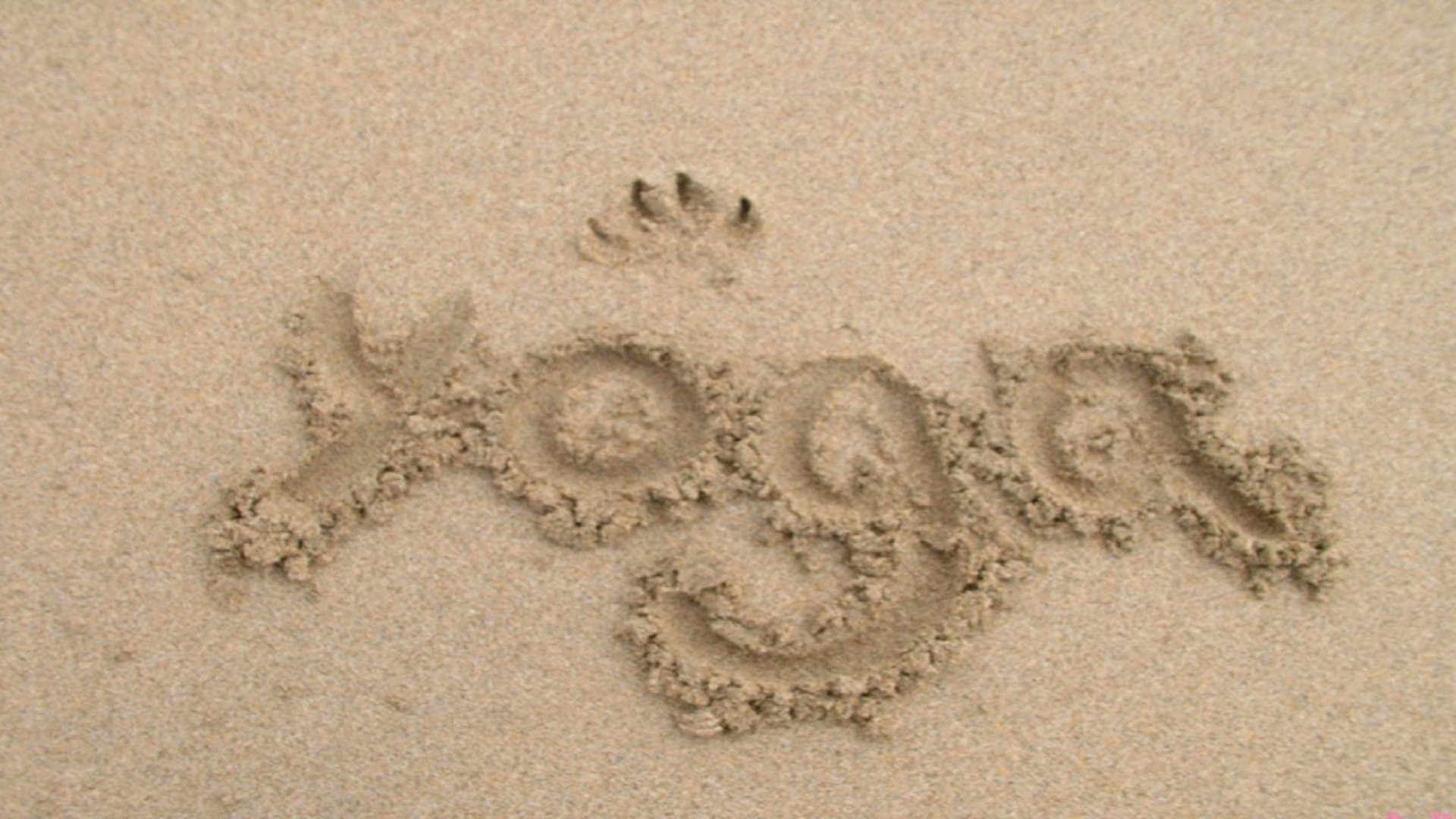 WANT TO TRY
OUR YOGA RETREATS or HOLIDAYS?
---
We are always happy to hear from you!
Address
Amiras
Ano Vianno 70004
South Crete
Greece