OM SHANTI YOGA & HEALING CRETE
The Art of Life N.P.O.

---
Om Shanti is"the sound of the universe & peace " .
---
We welcome you to our retreat place which is located in a small mountain village called Amiras (around 700 mtr. high) at the south coast of Crete, the island of light..After living on Crete since 1986 i was drawn to this area which has the quietness of the mountains and the vastness of the Libyan Sea just in front of the house. The energy is so pure , amazing and therefor perfect for yoga retreats , yoga holidays , Satsang or only a holiday . And maybe some questions about yourself and life will be answered through the stillness of the place and the harmonic energy . Our first priority will always be the simplicity of yoga and spirituality.
Around the retreat center you can hike in one of the only pine forests in Crete or relax on one of the most beautiful beaches i know of Crete all about 20 min away and driving through pure nature to get there.We have Minoan temples, gorges in the area.It is still like Crete many years ago with empty beaches and nice places to visit.. There are also some small villages for shopping etc and beautiful tavern's located along the seafront.Sunbeds and umbrellas are still provided for free in most places
You can relax here. Let the soul dangle and come back into harmony with what you really are.The place radiates a harmonizing and healing energy that our soul desperately needs in this hectic time..
Om Shanti Yoga & Healing Crete is located 60 km from Heraklion airport you can come by bus or we can transfer you to our center or arrange a car for rent.
---
Anja Abinaya & Kostas Siddharth

---
Originally born in South Germany, I came to Crete, the island of light, after completing my apprenticeship as a stage designer and studying art and technic. I already had realized that life is much more than what the eyes can see, the the inner journey had begun and yoga & meditation came into my life as well as different energy healing methods.and massages..
I am a trained Hatha Yoga teacher (Iyengar & Shivananda yoga, Flow yoga & Yin yoga ) and a Reiki master. In 1993 I started my yoga education in Crete in Heraklion after being the first time in India and in 2001 I did my yoga teacher training in the Bahamas. I also got my 1, 2 and Reikimaster initiation in those years and i learned various Massages, now I teach more than 20 years here and wherever i am.
I opened the Yoga & Healing Center Om Shanti and run it now with my life-partner Kostas Siddhart (who is from Crete and is also on the path of truth) He is cooking the delicious vegetarian food (Yogic, Ayurvedic and Cretan, all organic and from local traders) He is also responsible for our vegetable garden & since his passion is music and he was a DJ for many years, he also plays the beautiful spiritual music (ambient, chill out, mantras) during the seminars and leads through the dancing meditation.
We have spent many winters in India, me deepening my practice studying with Iyengar & Sivananda yoga teachers.Also in ashrams where we had been learning & deepening pranayama and meditation techniques as well as a yoga that goes much further than the physical exercise. Vipasana , Advaita Vedanta, the question Who am I ...and Kirtan ( i also play Harmonium) are supporting me since many years.The last few years we have been with the enlightened master Mooji ji a lot , for his satsangs in Rishikesh. & we are member of the Mooji sangha group.
Yoga also puts me in my center again and again and shows me what is essential in life, namely to meet things with serenity and joy. I try to pass this on, among other things, in my seminars and yoga classes..
We are very happy to share our experience with you.
May love and light be with you,
Abinaya & Siddharth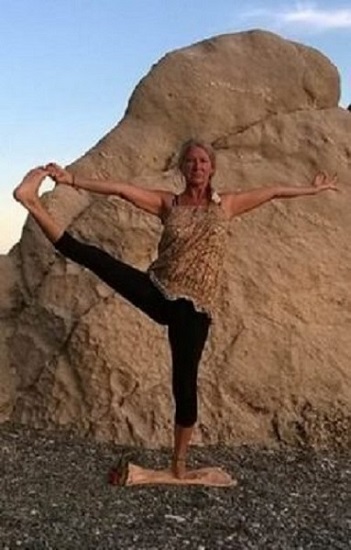 WHY YOGA?
The question '' Who am I 'and why am I here is often the trigger for yoga, as well as physical discomfort, both can be answered and cured with yoga. Yoga is a light, which once lit, will never dim. The better your practice, the brighter the flame.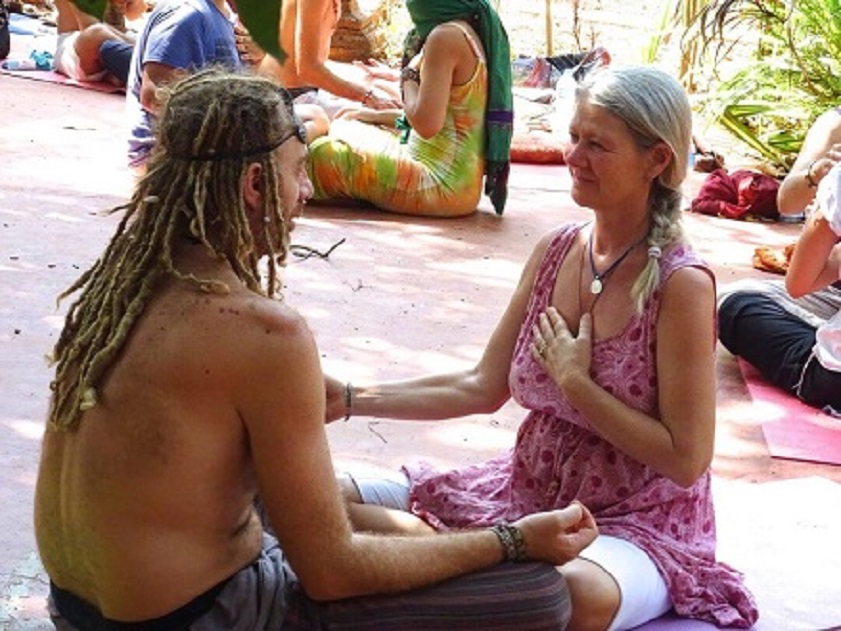 FOR WHOM?
we are open for everyone ...yoga has to do with your inner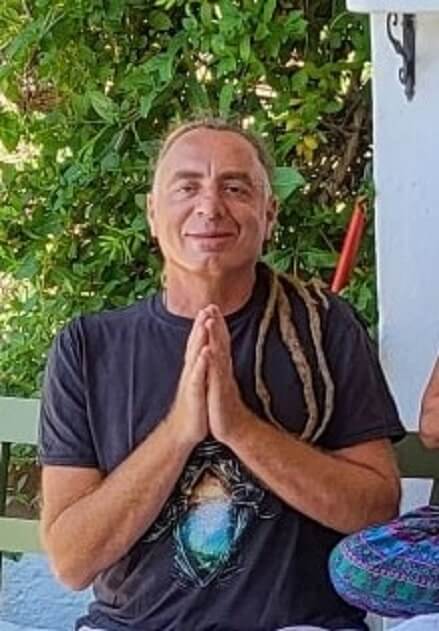 WHEN?
from April till November
---
More Teachers
As a human you have a destiny, Live it!
Lalita Devi (Kirtan & Hatha yoga)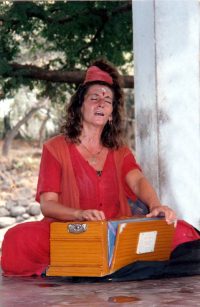 ---
When Lalita was doing her yoga teacher training in 1994 she was deeply touched by the singing of the Bajans and she followed after from the mountain Arunachala in South India the voice of Papaji (Enlightened Master) to Lucknow where he told her "Lalita you sing - Mind is quiet !"
With her total devotion when she sings , Inspires Lalita so many people, when you sing thousands of years old Mantras , you dive deep into yourself and feel total bliss and happiness.
Bajans are not to simply entertain you , but to awaken you to the truth of what you really are.
Through the power of the music and the word we break through our unconscious mind and find what we are , Sat Chit Ananda....Truth Consciousness Bliss.
With Lalitas ecstatic Bajans we feel Shivas presence deep in our heart , there where we know" Who we are".
SOHAM SOHAM - YOU AND I ARE ONE !.
OM Shanti
Asimina ( Singing bowls, Gong / Bachremedies )
---
My name is Asimina Stamopoulou and I have been dealing with Alternative therapies for 7 years.
For me, alternative therapies are a way of life. Daily meditation with Tibetan bowls and gongs changed the way I think and perceive things around me. Their vibrations helped me a lot in unblocking my energy field, finding my true self and what it wants to do in life for the benefit of all Beings in terms of the Divine plan.
A new path of Inspiration was created in the flow of my life. The vibrations of the bowls create the Alpha & Theta waves, they bring us to a level where the mental does not work, that is, the awakening of our thoughts, the emotional does not work, that is, no influence of our emotions and desires.
A void is created within us, the pure Divine Nature comes out from within us, a nature that is hidden within & does not allow the Ego to be expressed. A nature that is happy with the fullness of Everything, what Pythagoras said EVERYTHING IS ONE. A truth that existed always and forever and that helps us realize the True meaning of life.
Happy to share this with you Namaste Asimina
Jana (Yoga & Massage therapist )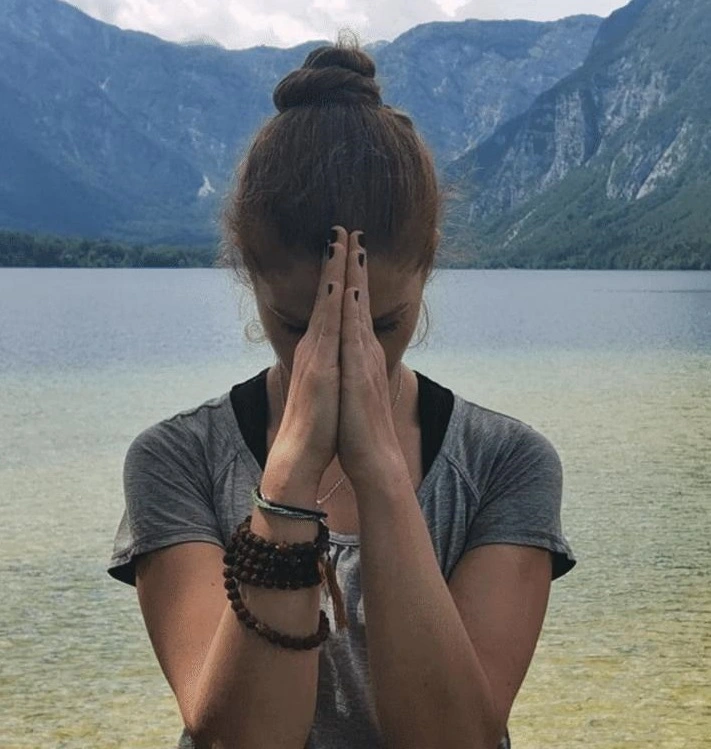 ---
I am a yoga teacher, ayurvedic massage therapist, and doctor of science. I live for traveling. love nature and mountains. I encountered meditation and spiritual experience in my early twenties, but i searched for a long time to find the right path. The Yoga i have studied is traditional hatha yoga in several Indian temples and ashrams (Ved Niketan International Institute of Yoga and Meditation in Rishikesh and Sivananda Yoga Vidya Peetham in Kerala…), and expanded this knowledge with the help of different Slovenian and foreign teachers (Robert Honn, Franz Andrini, Shakti Simone Lehner, Simon Borg-Olivier).
i am always excited to share my experiences with others, helping them to develop physical awareness and to reach a relaxed and calm mind.
Namaste Jana
---
YOGA & HEALING with Abinaya..Anja
YOGA means UNION. HATHA YOGA is the union of the sun & the moon, male & female to become ONE.
---
"You think of yourself as a citizen of the universe. You think you belong to this world of dust and matter. Out of this dust you have created a personal image, and have forgotten about the essence of your true origin."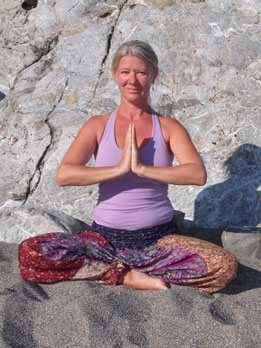 HATHA YOGA
"Yoga for me is a state of mind and a whole lifestyle, that's why I teach in a way that includes the heart, the mind, the soul, as well as the physical body."
Yoga unites our individual Self with the higher truth. Most people in the west, practice yoga for physical exercise to gain fitness and reduce stress but working with the body and getting physical health, the nervous system gets affected positively and automatically drives the mind in peace.
I teach Hatha Yoga in the style of Iyengar and Shivananda. Plus mindfulness and relaxation in the asanas. Shivananda gives great importance to the spiritual side of yoga, which in my opinion is essential , because yoga means "union". Therefore, all body exercises (asanas) and breathing exercises (pranayama) are a preparation & purification of the body for meditation - enlightenment . Through my training with Iyengar Yoga, I also give great importance to the correct doing of the asanas, because when our body is correctly in a position, blockages, first physical, then mental are released & the energy flows free again. The Asanas reach all parts of the body, affecting muscles, joints, spine, internal organs, glandular systems and nerves. The pranayama has a balancing effect on the body energy and emotions.The body is our "temple" which we should nurture (through yoga) to give our "soul" a worthy dwelling. Also, our body is happy when it is agile and healthy. We achieve this through asanas , breathing techniques and meditation as well as through the food we eat..
YOGA Holidays
Yoga holidays are always in between the retreats ( for 2 hours in the morning a healthy and rich brunch after and then the whole day for yourself.. ) The base is classical Hatha yoga which combines pranayama , meditation, asanas ,mantras (we chant beginning & end of the class) In the old times Hatha Yoga had also influence of Yin Yoga to harmonize active & passive..now in the new times it is mostly Yang ( active) .I love the traditional way very much and teach mostly like that . . But also do i give space for the yoga class to arise spontaneously as the group needs it
---
The groups we hold in the center are small (6-10 people) so everyone can be taken care of individually .We will learn together, practice, meditate, laugh and rejoice, and perhaps we will find that "PEACE THAT IS BEYOND UNDERSTANDING that we all search for ...Om Shanti Abinaya..
Pranayama technics. Bairova,,Bastrika, Kapalabhati, Anuloma Viloma: Breathing technique to reduce thoughts, profound cleansing of stress and tension. Preparation for meditation.
Yoga holiday classes 08:00-10:00 in the morning:
Group Yoga session - 15€ per person (from 3+ people)
Yoga session for 2 people - 40€
Healing
Reiki Sessions:Reiki Initiation level I, II, III

Indian Head Massage,Back Massage Foot Reflexology, Shiatsu

Sound massage and Bachremedies with Asimina
Lotus meditation
netti netti meditation: I am not this.
itti itti: I am peace, happiness and love.


---
---
RETREATS Upcoming & Latest
Seminars & Workshops
    ॐ   Retreats Yoga holidyas are available all the time in between the retreats  this year we have wanted to give more time for the Yoga holidays & also for hosting retreats from

[…]
Anahata Yoga and Kirtan First afternoon will be a cacao ceremony to open the retreat and open your heart for yourself and others. In this retreat we work with asanas for the opening of the

[…]

Hatha & Yin Yoga plus silence Nurture, heal, listen to your inner being in a harmonious space of serenity, joy, and silence. 8 days that we give to find ourselves, supported by the healing energy

[…]

In this 6-day seminar, 3,5 days will be a cleansing process with Jala neti ( nosecleaning ,) tongue cleaning , warm lemonwater and smoothies, soups, green smoothies, juices, herbal teas and water. On the first,

[…]
Information
To find the sacred point, the point of stillness where everything exist at the same time. All within us, available at any given moment. Join us in this retreats

---
Each seminar is a group of 6-10 people.
All seminars are in English or German.
The beginning and end of the retreats are mostly on a Sunday but you are very welcome before or after the retreat.
The Yoga & Detox Seminars always start with the last quarter moon to help detoxifying.
At the airport there will be a car with the description to the center. Or we pick you up.The car will be shared with other people of the retreat. You can keep the car for the whole week.
There is also the possibility to come with a bus or a taxi to the center.
The double rooms are being shared at the retreat & in the price is included a 7-night accommodation, car, rich breakfast, 5 veg.dinners (as much as possible bio) , drinks , tee, coffee ,spring water from our tap & the Yoga program plus Yoga equipment .Also there is a dancing meditation & Kirtan ( can vary from retreat to retreat )..
By booking a retreat we kindly ask you for a deposit of 30% and the rest you pay it on arrival. For the cancellation until 2 month before there is a refund of 30%
Insurance is not included
New at Om Shanti is the wonderful belltent which is in pure nature in the middle of Olivetrees with seperate hammack and used as singel or double in the retreats ( price is a bit less )
We also have 1 small house separate from us which we rent when we are full in the center ( 3 min. walk) with kitchen ,bathroom ,living room & terrace.it has 2 double rooms which can be used as single rooms to rent extra ( the price is slightly higher there & minimum 2 people )
---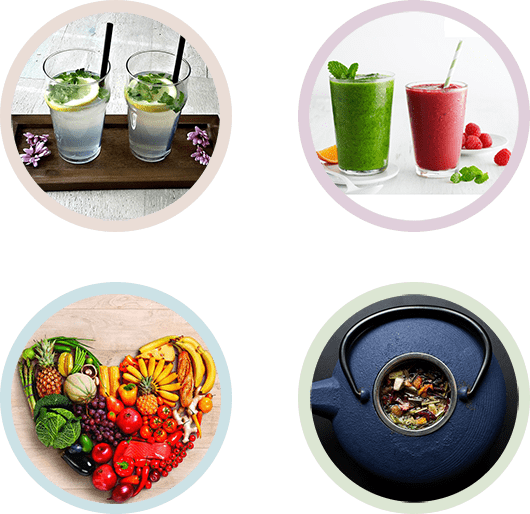 YOGA & DETOX , Monday 08.-13.10.24
highlight is a cacao cermony with singing of sacred songs
Why to Detoxify?

---
the Cacao ceremony helps the body to heal, detoxify and to give your immune system a good boost.Cacao is packed full of vitamins and minerals and increases blood flow to the brain which helps to strengthen awareness and focus.
The connection between the body and the mind is a very real one, with the way your body feels playing a big part in how your brain functions and whether or not you experience a state of well-being. Keeping it free of toxins, free radicals, and other nasty things that can end up in our insides is essentially to maintaining a healthy life. Detoxing the body also through yoga brings additional benefits which cannot be achieved through diet only or by any other means of detoxing. Detoxing through yoga practice improves the function of internal organs and removes impurities from them. Detoxing through yoga practice leaves your body cleaner inside and more energetic outside
.
---
---
In this 6-day seminar, 3,5 days will be a cleansing process with smoothies, soups, green smoothies, juices, herbal teas and water. On the first , second & last day we will have some light vegetarian meal, salad , fruits and smoothies to begin and end the detoxification.
---
THE PROGRAM IS THE FOLLOWING
>Tongue cleaning & Jala Neti (Nose cleaning)
> Warm water with lemon to give a kick to the lever
> Daily morning and evening yoga (1 ½ hour of asanas, pranayama, meditation)
> Yoga nidra
> Morning smoothie
> Group sharing and inspiration
> 1 oil massage (with special flowers and herbs essences to detoxify from the skin)
> Midday smoothie
> Free time to go to the beach or just relax in the center
> Evening yoga session
> Evening veg - soup
> mantras, kirtan, free time
> internet detox available if you like

* All plants and herbs are collected on Crete by a friend of us.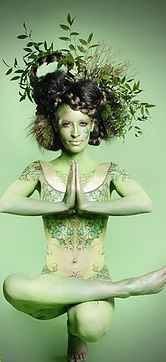 ---
---
ROOMS & GALLERY

---
Our house is an old stone house with garden & view to the Libyan Sea from all the rooms. There is space in the garden for relaxation in many private places. We have restored all rooms to the original style of the house with natural stone, giving a refreshing feeling for the summer. We have 3 double rooms which will be shared during the retreats and can be booked for Yoga holidays, the Retreats, as well as just for summer holidays, all with mosquito nets & natural Coco-mat mattresses.. Apart from the retreats you can use also the Yoga Shala for private practice. Our bathrooms are one closed shower with an old olive tree inside & one outside shower under the fig tree.as well various toilets and sinks.There is a space for having breakfast & dinner and also a fridge you can use and prepare cold plates.
Donation for a double room with breakfast,includes fresh Smoothy, yogurt, muesli,fruits, tomatoes . local & other cheeses. jam, local honey ,var. kind of bread , coffee, tea etc. (mostly bio & local products):
70€ per day for 2 people incl. Brunch
For single use of the room please ask for a price
By booking a room we kindly ask you for a deposit of 30% and the rest you pay it on arrival. For cancellation until 2 month before there is a refund of 50%.
Cooking lessons with our Chef Kostas (Siddhart) every Monday after the daily seminars, or by appointment.
---
Interested o organize your own retreat, just contact us.!
---
We would be delighted to welcome you soon!


















































SATSANG
The meaning of Satsang
WHO AM I

---
Satsang is a Sanskrit word that means "gathering together for the truth" or, more simply, "being with the truth." Truth is what is real, what exists. So all there is, is Truth. Whenever something increases your experience of the Truth, it opens your Heart and quiets your mind. Conversely, whenever something, such as a thought, fear, or judgment, limits or narrows your experience of the Truth, the Heart contracts and the mind gets busier. We are all equally endowed with this capacity to discriminate the Truth. Thus, the true teacher, or satguru, is within you, and satsang, or being with the Truth, is endless. You have always been here in the embrace of your true nature as aware, loving space. You have always been in satsang.
New dates of Satsang will be announced soon.
Ramana




Satsang




Atmaji




Vivek Satsang




Sagarika Ma Satsang




Vivek Satsang




Sagarika Ma Satsang




Atmaji




Vivek Satsang




Atmaji




Diana




Yoga & Healing 1

Yoga & Healing 2

Yoga & Healing 3

Yoga & Healing 4

Yoga & Healing 5
WANT TO TRY
OUR YOGA RETREATS or HOLIDAYS?
---
We are always happy to hear from you!
Address
Amiras
Ano Vianno 70004
South Crete
Greece